The Power of Women Working Together
The Canadian Federation of University Women-Northumberland (CFUW-N) is a branch of the Canadian Federation of University Women (CFUW), a non-partisan, voluntary self-funded organization with over 100 clubs located in every province across Canada. You can learn more about our history by visiting the About Us page.
CFUW-Northumberland is particularly active in supporting women who are pursuing further education/training. We raise funds annually for scholarships for women across Northumberland County. In 2022, we held two very successful fundraisers – a special event with guest speaker Moira Welsh and the third annual edition of our online auction. Get all the details on our Past Events page.
In addition, we received many donations from our members and the community. We were thrilled to learn that Ganaraska Financial Credit Union would like to contribute. They have provided funding for one of our scholarships ($1,000) to a student at the high school of their choice in June 2023.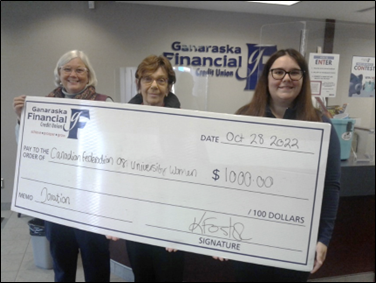 If you would like to contribute to our scholarship funds, you can make a tax receiptable donation at any time through our CanadaHelps site.
Membership in CFUW-N is open to all women who value lifelong learning. We provide a safe, supportive and welcoming environment. Learn more about membership here.
Through our many and varied interest groups, CFUW-N members have the opportunity to make lasting friendships and enjoy the benefits of learning, socializing and supporting one another. Learn more about interest groups here.