30th Anniversary Fundraising Webinar A Great Success!
"There is more to spaceflight than the voyage," says Dr. Roberta Bondar, the world's first neurologist in space, the first female Canadian astronaut and global pioneer in environmental education. In a Webinar talk made possible through a unique partnership between CFUW-N and The Roberta Bondar Foundation, Dr. Bondar shared her insights into the natural world with a focus on migratory birds and the impacts of climate change and human activity. She showed participants a selection of her stunning photographs of Canada's National Parks and the hidden migration patterns of endangered birds such as the Whooping Crane. Taken with her Hasselblad camera which enabled her to capture huge panoramas, all the images are stunning works of art as well as important records of the world's changing landscapes. Dr. Bondar ended her talk by showing us a series of photographs taken over the years of herself searching the skies through the binoculars she inherited from her father.
An inspiration to all girls and women who dream of achieving great things!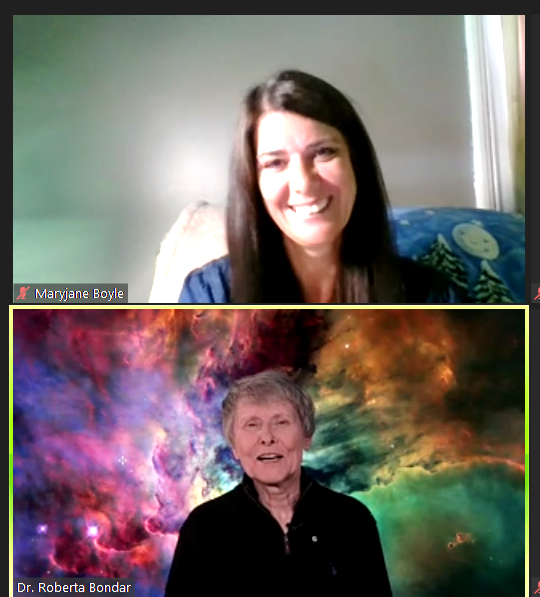 The webinar was introduced by our president, Christine Kwiatkowski and moderated by MaryJane Boyle. MaryJane is a previous CFUW-N scholarship recipient. Her family comes from Alderville First Nation.
68 people attended the webinar on Sept. 8, 2021 and many more purchased tickets or made donations that will enable CFUW-Northumberland to provide future scholarships to the girls and women of Northumberland County.
Susan Somerville, vice-president, announced that in honour of our 30th anniversary and to mark 30 years since Dr. Bondar first went into space, CFUW-N will fund an extraordinary set of scholarships for 2022.
CFUW-Northumberland's 2020 Online Auction Success
Cobourg, ON – Dozens of items, ranging from flowers to local art, were up for grabs during the Canadian Federation of University Women – Northumberland's first scholarship fundraising auction. in October 2020.
All of the items were donated by generous individuals and Northumberland businesses. We are proud to have raised $2752 to support our scholarships for Northumberland County women.
To date, in 2020, CFUW-N awarded seven $1,000 scholarships to students attending the six Northumberland County high schools, plus two bursaries, $500 and $1000, to county students continuing their studies at Fleming College and Trent University respectively. In 2019, a one-time scholarship of $1,000 was awarded to a PhD student at Trent University in honour of the 100th anniversary of CFUW.
Fundraising for scholarships has been on-going since CFUW-N was formed in 1991. Prior to 2020, fundraising luncheons were usually held in the spring, but the May luncheon was postponed due to Covid-19 restrictions.